Office of Information Technology (OIT)
---
Mission Statement
The mission of the Office of Information Technology (OIT) is to provide district-wide information technology services which support our educational community and foster the success of our students.
The Office of Information Technology is comprised of seven areas of responsibility: (1) College Information Technology; (2) Web Services, Student, and Scholarly Technologies; (3) Enterprise Resource Planning Applications/ Administrative Applications; (4) Infrastructure Services; (5) Information Security; (6) Project & Portfolio Management; and (7)Technology Customer Service Delivery.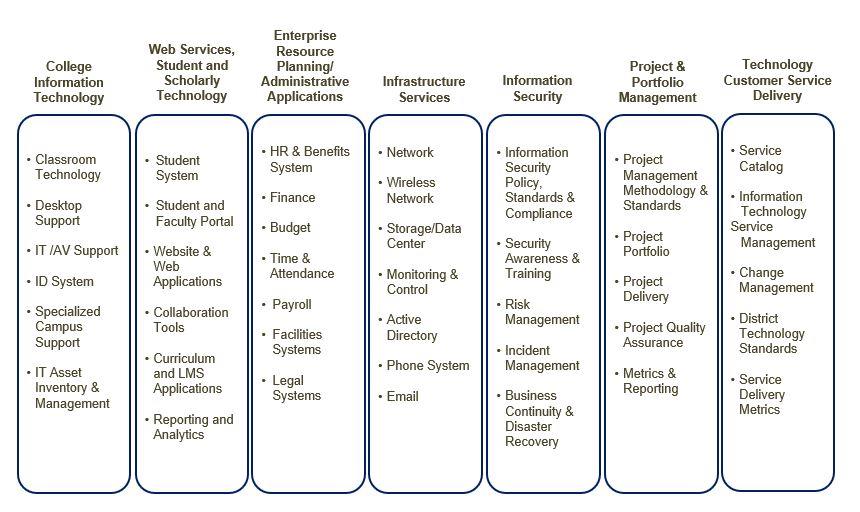 Service Domain
Description
College IT
Each of the campuses has a dedicated support team led by a Regional Manager, College Technology Services to meet the needs of the local students, faculty, and staff. These teams provide customer computing services, on-demand desktop services and maintenance, onsite support and customer technology solutions and support for College departments, as well as managing AV and desktop technology needs for campus. LACCD is also committed to providing current and accessible computing resources to improve outcomes for students. Campus technology includes, SMART classrooms equipped with computing and audio-visual devices, document cameras, interactive white boards, tablet computers, and specialized lab equipment for education programs (e.g., Automotive Technology, Dental Hygiene, Aviation Technology, etc.)
Web Services, Student, and Scholarly Technologies
This team provides and supports web-based technologies that improve operational efficiency in direct support of faculty, advising, and students as well as technical oversight over collaboration tools (such as SharePoint and Zoom Conferencing). Through web-based platforms, faculty can provide students with recorded lectures, and access to syllabi, homework assignments, and grades, as well as the newest instructional technologies such as mobile learning and customized digital content. This group also supports the PeopleSoft Student Information System and its ancillary systems. The SIS serves as the system of record for Student Administration and all operational and transactional data for all LACCD students are maintained in this system. Registration, enrollment, student finances, student self-service reporting, financial aid, retention, student records, and regulatory compliance are just some of the critical functions processed by these applications.
Enterprise Resource Planning Applications/ Administrative Applications

The group supports the SAP ERP system of record for Finance, Facilities, and Human Capital transactional data. Operational and transactional data for all staff and faculty are maintained in these systems and ancillary systems. Employee records, electronic signature, organization management, personnel administration, benefits, budgeting, time and attendance, procurement, billing, assets, General Ledger, employee access, auditing, and regulatory compliance reporting are some of the key functions processed by these applications.

This includes the online employee portal, mobile technology, and portal technologies.
Infrastructure Services
LACCD infrastructure provides network and enterprise application support for all technology systems used by the District and oversees all data centers and cloud solutions. This team supports all telecommunications, wired and wireless network access, and enterprise email services. The infrastructure team sets standards and policies for infrastructure architecture.
Information Security
The Information Security team creates, implements and maintains the information security program for the district. This program ensures that business data and information remain confidential, accessible, and under the control of the organization. This unit has six focus areas: (1) Information Security Policy and Standards; (2) IT Risk Management; (3) Information Security Training and Awareness; (4) Incident Response and Management; (5) Disaster Recovery and Business Continuity and (6) User Access Control. Since the information Security team is very small (2 persons) it relies on the rest of the OIT organization for the enablement and operationalization of the standards and implementation of the security program.
Project & Portfolio Management
This newly created team is focused on establishing Project management standards and a consistent methodology to be used by the district. This team also provides Project Management oversight for key information technology projects and programs and provides project quality assurance for the LACCD IT projects.
Technology Customer Service Delivery
This team provides a single point of contact for technology service and support requests. This unit also leads the development district-wide requisitions for computing devices, Audio-Visual equipment, and other district-wide asset needs. In addition to personnel located at the Educational Service Center; each College has a core team of professional technologists that support faculty and staff as well as equip instructional spaces and computer labs to meet instructional needs. This team helps drive support standards across the district to ensure quality customer service and support.