AWARD WINNING MENTORSHIP PROGRAM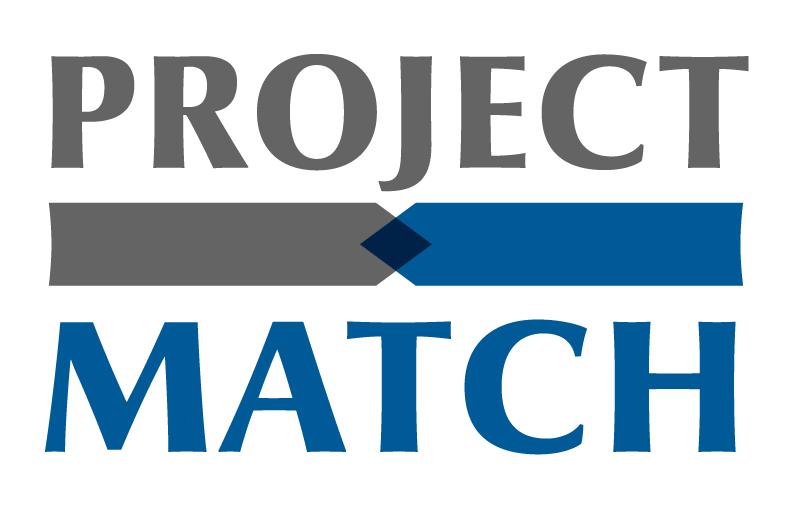 Celebrating 30 Years
---
OPEN TO ALL ACADEMIC DISCIPLINES
Applications for the 2024 cohort will open soon.
Virtual information sessions to will be held in December 2023 and February 2024. Register in advance for one of the sessions using one of the following links: 
Thursday, December 7, 2023 12:00PM - 1:00PM
Thursday, February 1, 2024 5:00PM - 6:00PM
You will receive a confirmation email containing information about joining the Zoom meeting.
MENTORSHIP PROGRAM
Project MATCH is Los Angeles Community College District's (LACCD) premier instructional development and professional learning program designed to increase quality instruction and diversity in community college teaching. The program embodies LACCD's equity framework dedicated to the principles of equity, justice and community. LACCD and its colleges are actively working together to build our antiracist organizational capacity and resilience and move forward towards a more socially and racially-just academic community.
Index of Content on This Page
Purpose of the Program
Program Commitment and Structure
Compensation
Eligibility
How to Apply
The Los Angeles Community College District (LACCD), comprised of nine area community colleges, offers Project MATCH as a program to prepare and recruit a diverse community college faculty who are sensitive to the needs of the students and community it serves. The goals of the program are to (1) improve the diversity of the faculty pool in the District, (2) mentor participants to serve as role models reflecting that diversity within the District, and (3) better reflect the diversity of the communities within the largest community college district in the nation.
The Program is open to all qualified applicants who:
Are authorized to work in the USA;
Meet Minimum Qualifications in the subject area to which they will be assigned as mentees. The subject area (either academic or vocational) must be one that is taught at one of the nine campuses of the Los Angeles Community College District. The minimum qualifications requirements for academic and vocational teaching areas are set forth in the 2023 Chancellor's Office Minimum Qualifications Handbook which can be found at: CCCCO Minimum Qualifications Handbook
Do not have any paid college (2 or 4 year) professional teaching experience prior to applying or during the course of the mentorship, except as listed below. Similar professional experience in counseling or library science will disqualify applicants applying as counseling interns or library mentees.
The following types of paid teaching experience will not disqualify an applicant from consideration: Preschool, K-12, Adult Education, Graduate Teaching Assistant (TA), Community-Based Courses, Not-for-College-Credit Courses, or Corporate Education.
ELIGIBILITY REQUIREMENT COVID 19 VACCINATION:
Pursuant to LACCD Board of Trustee's Policy 2900, all students, employees, and volunteers must be fully vaccinated by 5PM November 8, 2021 and complete a baseline test or have an approved exemption. LACCD employees are required to provide their vaccination status in compliance with the LACCD Board of Trustees' policy. Newly hired employees and volunteers will be required to provide their vaccination status prior to starting a position or internship, at the latest, by their position start date.
Please note that the Program is not open to those who have previously completed the program, or those who have been dismissed and/or disqualified from the Program. Also, the Program cannot be used to supplement any course work or internship requirements at other educational or credential programs for any applicant who is currently enrolled in another "community college" mentorship program or "teaching certificate" program.
Project MATCH cannot provide equivalency to any participant.
The Project MATCH mentorship is a multi-component program comprised of mandatory elements including the following*:
The Program kick-off event and session held in late May, marking the beginning of the Summer Institute.
The Summer Institute, held during the months of July and August, is designed to give mentees the fundamental theories and skills necessary to thrive in their community college mentorship. The Institute is on Saturday from 10:00am - 12:30pm.
Successfully complete two Canvas certification courses (Introduction to Canvas and Online Teaching and Learning) a combined ttotal of 8 weeks/80 hours.
Follow-up sessions are held once a month on Thursday evenings from 5:00pm - 6:30pm in September, October, and November.
Mock Interviews are held on an additional day in November.
End of the year celebration held during an evening in December before the end of the fall semester.
Prior to the fall semester, each intern will be matched with a faculty mentor, who has applied and been accepted to Project MATCH. The participant will be assigned to work with the mentor generally a minimum of three hours per week for 15 consecutive weeks throughout the fall semester.
There are 9 colleges with the LACCD. Campus selection and mentor matching is at the sole discretion of the District and the Project MATCH Administrator.
Please note that Project MATCH mentees are expected to behave appropriately and professionally at all times. It is at the discretion of the District and Project MATCH Administrator to dismiss any mentee.
*All Project MATCH sessions will be online, including Fall mentorships. Accepted applicants will be notified if there are any changes or updates.
The terms of the mentorship provide a stipend of $800.00 for each participant. The stipend is conditional on attending all mandatory events and all fall semester classes, and is delivered in two payments ($400.00 each) at the end of October and at the end of December.
Each mentee will submit a LACCD Volunteer packet. Fail to complete the forms in the packet by the due date may result in no payment. the packet will be distributed during the Summer Institute.
Interested persons will be required to file the application using the LACCD's web-based software to create an applicant profile account, allowing documents to be saved and uploaded as attachments.
Please apply at the following website: LACCD Application
Application materials are not accepted via facsimile transmission, email, or walk-in, portal, or express mail delivery. After review of the application materials by the selection committee, candidates will be contacted by email if selected for interviews.
For consideration in the selection process, all applicants must submit the following documents as part of their online application:
A letter of interest specifically for the Project MATCH Program. In the letter include why you are interested in teaching, particularly within the LACCD and the communities it serves. Please indicate what discipline(s) you are eligible to teach in the LACCD. Project MATCH cannot provide equivalency to any participant, it is your responsibility to address the discipline in which California Commission on Teaching Credentialing you meet minimum requirements. Also, discuss why and how your educational experiences, both at the undergraduate and graduate level, have prepared you to teach at a community college.
A current resume with at least three professional references, one of the references needs to be from a current or former supervisor. Please include contact information for all references.
College/University transcript(s), including all higher education units attempted. Higher education includes all course work completed beyond high school. All degrees must be granted by an accredited college or university in the United States. Transcripts from a foreign institution must be submitted with an approved evaluation of equivalency from a foreign evaluation service approved by California Commission on Teaching Credentialing.
One signed letter of recommendation written within the last six months expressly for the Project MATCH Program application and from an individual (not a family member) who has provided post-secondary academic instruction to the applicant or who has working in a professional setting as a supervisor to the applicant.
All these materials must be received by end of day on March 1, 2024. Incomplete applications will not be reviewed, so please be sure to submit all the documents listed above. All application materials become the property of LACCD and will not be returned to the applicant.
Due to the number of applications received we are unable to respond to individual inquiries. It is the responsibility of the applicant to ensure they meet the minimum qualifications to teach at a community college.
If the applicant is chosen and accepts the mentorship, original transcripts must be submitted before the commencement of the first Project MATCH event or session.
If accepted to participate as a mentee in the Project MATCH program and require reasonable accommodation due to a qualifying disability under the Americans with Disabilities Act (ADA), please contact Betina Vallin at (213) 891-2104 or vallinb@laccd.edu.
The policy of the Los Angeles Community College District is to implement equal opportunity to all qualifying candidates for employment without regard to race, color, national origin, ancestry, religion, creed, sex, pregnancy, age, disability, marital status, medical condition (cancer related), sexual orientation, or veteran status. Positive action will be taken to ensure that this policy is followed in all personnel practices including recruitment, hiring, placement, upgrading, transfer, demotion, and treatment during employment, rate of pay or other forms of compensation, selection for training, layoff or termination. A vigorous equal employment opportunity program will be maintained to ensure a diverse work force and to achieve expected representation of qualified members of the under-represented groups through the implementation of specific results-oriented plans and procedures (Board Rule 101301).
The Los Angeles Community College District (LACCD) is an Equal Opportunity Employer and Educator.
2013 Dr. John W. Rice Diversity & Equity Award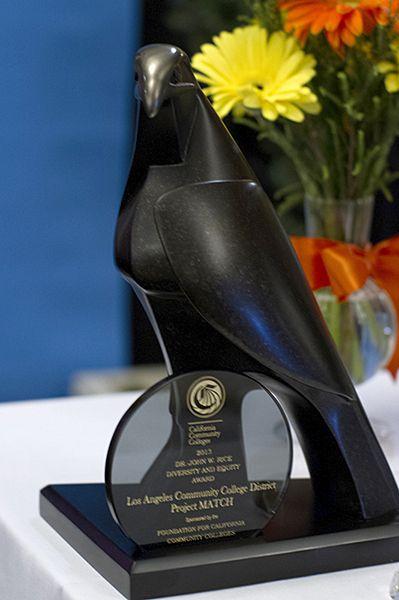 The 2013 Dr. John W. Rice Diversity Awards hosted by the Foundation for California Community Colleges, was held at the Sterling Hotel in Sacramento. This is the award given to the Project MATCH Program of the Los Angeles Community Colleges District. The award is made of polished granite and symbolizes the strength that comes from diversity and equity.
---
In 2011, Project MATCH celebrated its 20th anniversary. To recognize this milestone, we put together a short video that captures the essence of what this program is about. To view please click on the following You Tube video link: Project Match 20th Anniversary