COVID-19 Testing Update and Other Information
School
Location
Monday
Tuesday
Wednesday
Thursday

LACCD COVID-19 Testing Schedule Spring 2022 Semester -- NO Tests on Fridays or Holidays

Holiday Closures for All Locations: Feb. 18 & 21; March 31, April 1-8; May 30 and July 4

LA Harbor College - 1111 Figueroa Place, Wilmington California 90744
General Classroom (GC) - Room 105
9am - 3pm
 
 
9am - 3pm
LA Southwest College - 1600 West Imperial Highway, Los Angeles, CA 90047-4810
Lakin (gym) - Room 120
10am - 2pm
10am - 2pm
 
 
LA Valley College - 5800 Fulton Avenue, Valley Glen, CA 91401-4096
Engineering Building - Room 100
9am - 2pm
9am - 2pm
12pm - 5pm
 
LA Pierce College - 6201 Winnetka Ave. Woodland Hills, CA 91371
North Gym - Room 5600
9am - 1:30pm
9am - 1:30pm
12pm - 4pm
 
LA Mission College 13356 Eldridge Avenue, Sylmar California 91342
Instructional Administration - Room 1005
 
8am - 12pm
11am - 3pm
 
LA City College - 855 N. Vermont Avenue, Los Angeles California 90029
Student Union - 1st Floor
 
9am - 4pm
9am - 4pm
 
West LA College - 9000 Overland Avenue, Culver City, CA 90230
MSA 102
10am - 2pm (In lieu of Wednesdays, starting February 28)
 
10am-2pm (until February 24)
10am - 2pm
LA Trade-Tech College - 400 West Washington Blvd.,Los Angeles, CA 90015-4108
D3 building Room 2
 
9am - 2:30pm
9am - 2:30pm
 
East LA College - 1301 Avenida Cesar Chavez, Monterey Park, CA 91754-6099
Building G5 - Room LL009
9am - 2pm
9am - 2pm
12pm - 5pm
 
East LA College - South Gate Campus - 2340 Firestone Blvd. South Gate, CA 90280
Room 112
 
10am - 2pm
10am -2pm
 
ESC District Office 770 Wilshire Blvd L.A., CA 90017
Board Room First Floor
10am - 2pm
 
 
10am - 2pm
Hotline Contact Info
LACCD has initiated a telephone hotline for faculty, students and staff to call with any general issues or concerns they might have related to the District, the colleges and the 2019 novel coronavirus or COVID-19.
The information hotline is (213) 221-6334
Please leave your name and phone number, your question or nature of your all and we will get back to you as quickly as possible. If you prefer, you can contact the District by email at: coronavirusinfo@laccd.edu For college-specific concerns, contact each college directly at:
* We will protect your identify and not share your name or contact information with outside parties.
For general information, the Los Angeles County Department of Public Health is recommending that all residents in Los Angeles County call 2-1-1. For any life-threatening emergencies, always call 9-1-1. Remember to stay calm when talking to 9-1-1- operators. Be prepared to give your name; your location and exact nature of your call.
Updated Info for Renter and Utility Assistance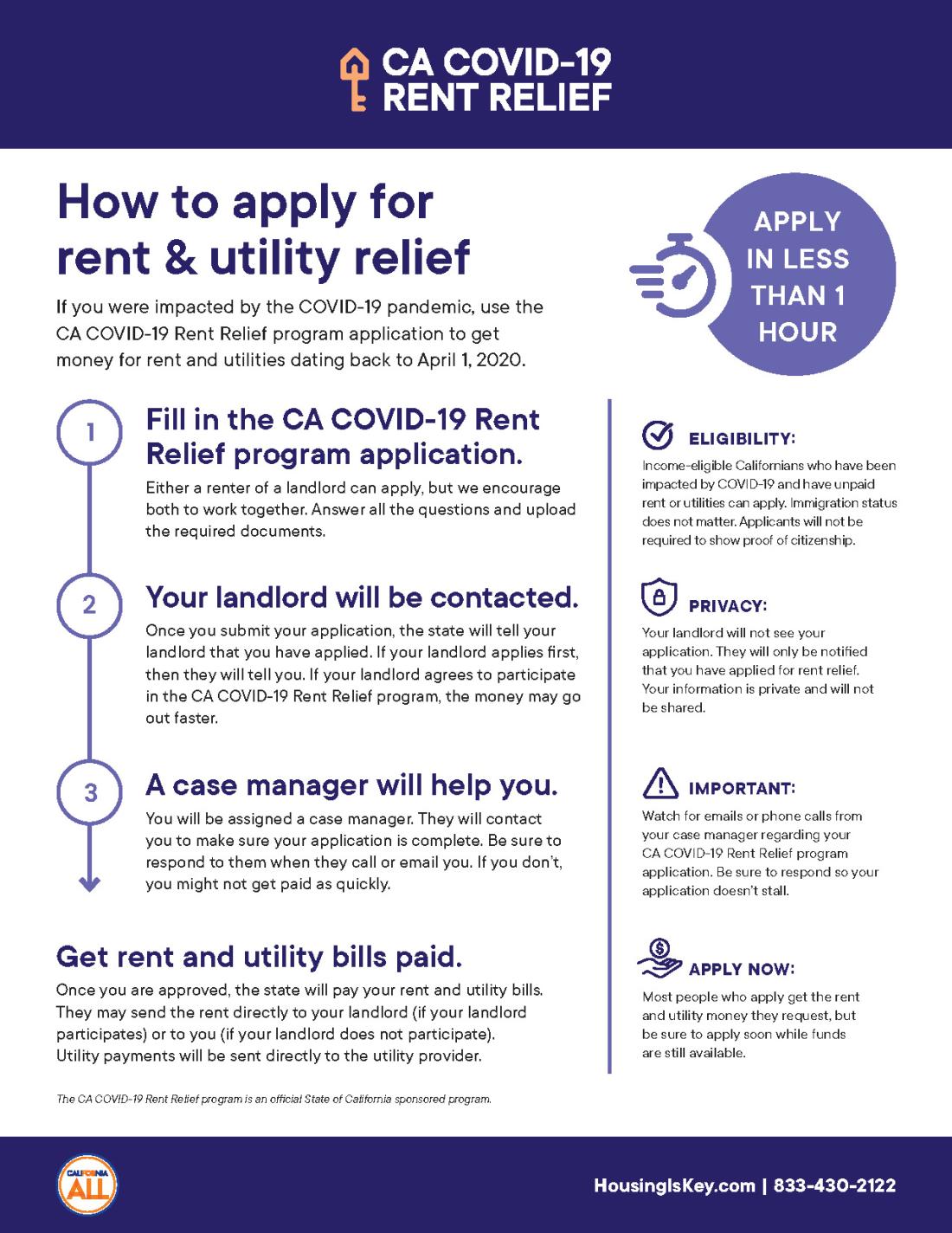 CA COVID-19 Rent Relief:
How to Apply for Rent & Utility Relief
CA COVID-19 Rent Relief:
Get 100% of your rent and utilities paid
Need Help Affording Internet? Apply TODAY for the Emergency Broadband Benefit
Consumers can begin applying and enrolling TODAY for Emergency Broadband Benefit, an FCC program which help families and households to afford internet service during the COVID-19 pandemic. Eligible households are able to enroll in the program to receive a monthly discount off the cost of broadband service from an approved provider. Only one monthly service discount and one device discount is allowed per household.

If your household is eligible, you can receive:
Up to a $50/month discount on your broadband service and associated equipment rentals
Up to a $75/month discount if your household is on qualifying Tribal lands
A one-time discount of up to $100 for a laptop, tablet, or desktop computer (with a co-payment of more than $10 but less than $50)
There are three ways for eligible households to apply:
Contact your preferred participating broadband provider directly to learn about their application process.
Go to GetEmergencyBroadband.org to apply online and to find participating providers near you.
Call 833-511-0311 for a mail-in application, and return it along with copies of documents showing proof of eligibility to: Emergency Broadband Support Center, P.O. Box 7081, London, KY 40742.